Hands up if you've become a little bit tired of seeing your current kitchen scheme whilst waiting for the coffee machine to percolate your 78634th cup of jo since lockdown? 
Well, we've come up with some fabulous new kitchen tile ideas that will give your walls and floors – and your whole kitchen – a brand new look. Swap the backsplash tiles, and the kitchen makeover is sorted.
"With open plan kitchens still at the top of most homeowners' wish lists, large flooring tiles reign supreme," says Abbas Youssefi, Managing Director of Porcelain Superstore. "The beauty of a large tile is they create a unified feeling throughout open plan rooms – giving an almost palatial feel. While kitchen flooring remains quite classic, the same cannot be said for the walls and we have seen an upturn in the number of homeowners who want to inject real character into their kitchens–color and texture are the big news in kitchen schemes."
So, as well as being one of the most practical kitchen ideas, tiles really can be a bold or textural design statement. Have a look below for our best inspiration and advice.
1. Small kitchen? Carry your tile color scheme through to make it look bigger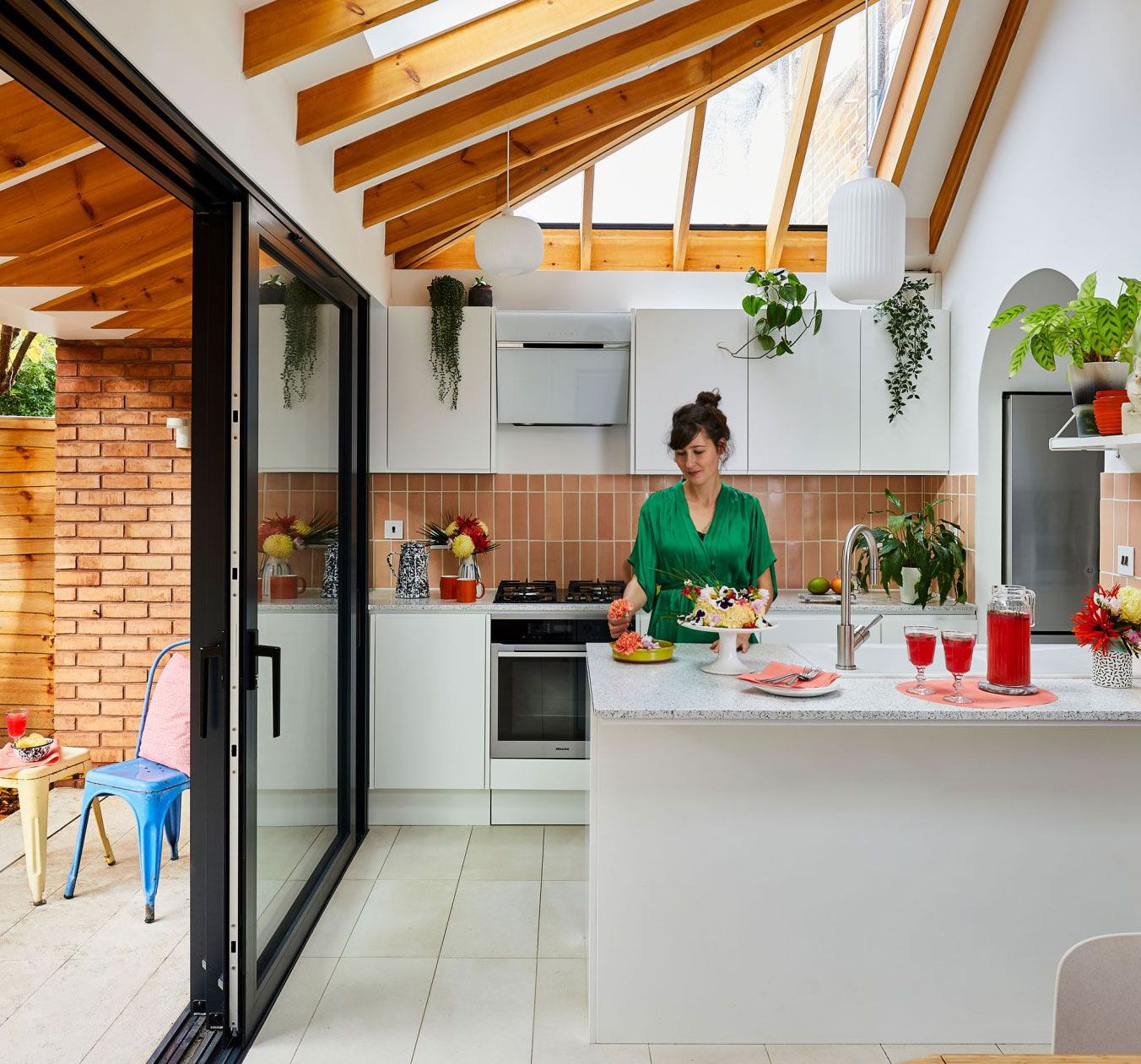 If you want to make a small kitchen feel larger, one way to do so is to carry the color scheme through to the next space, whether the dining room, living room or – as in the case of this gorgeous kitchen extension (which you can see more of in our feature) – through to the garden or backyard.
The inviting orange of the tiles matches the bricks perfectly, with the tiles turned lengthways for a subtle change in pattern.
Love patterned tiles? We've rounded up our favorite tile designs for kitchens, hallways and bathrooms.
2. Use textured kitchen tiles to create visual interest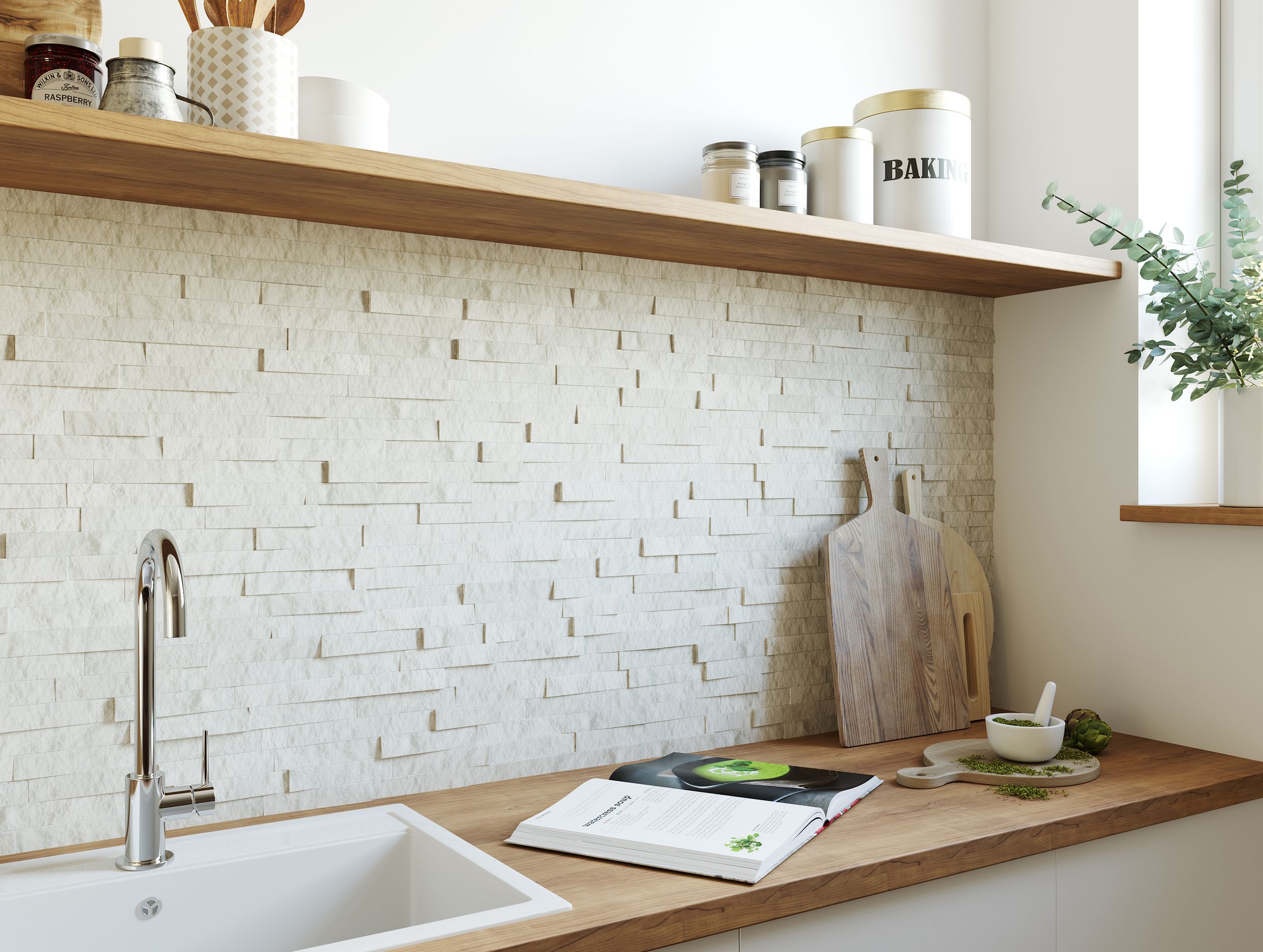 If color isn't your bag, then opt for a sophisticated textural tile, which can make a muted kitchen decor scheme much more interesting. 
These by Tile Mountain add a 3D element due to their interlocking design, which works really well here in contrast to the walls which are a smooth crisp white – they also have a shimmering sparkle finish. 
The wooden worktop and shelf bring out the natural shades of the tiles creating a calming, 'zen' like quality in this space. Keep accessories simple and in similar tones.
3. Match wall and floor tiles to create zoning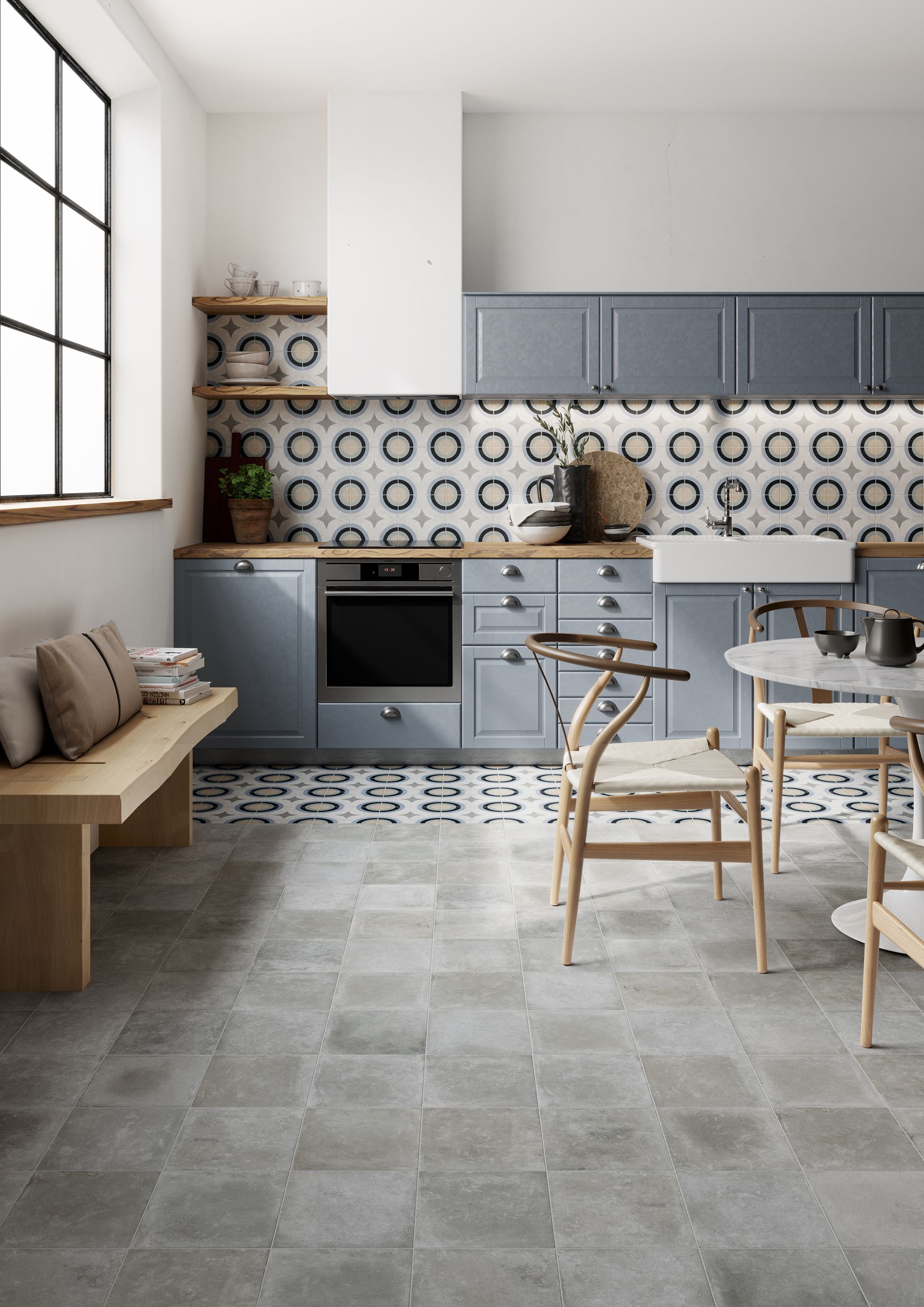 One way to create a unified scheme that works brilliantly in a larger, open plan kitchen is by choosing flooring for the kitchen zone that matches the backsplash tiles but differs from the flooring in the rest of the space. And patterned tiles will make a larger kitchen feels more cosy, and a small kitchen feel more co-ordinated.
For those pattern lovers amongst us, these are for you. They are called 'Swing' from Tons of Tiles; we love the circle design and how easy the colors are to accessorise with. 
Made from porcelain, they have a faux encaustic quality that ensures they are right on trend. Team with blond wood and a pale grey as shown – one bonus is that you can use them on the floor too.
4. Super-size kitchen tiles for a subtle look in a boho space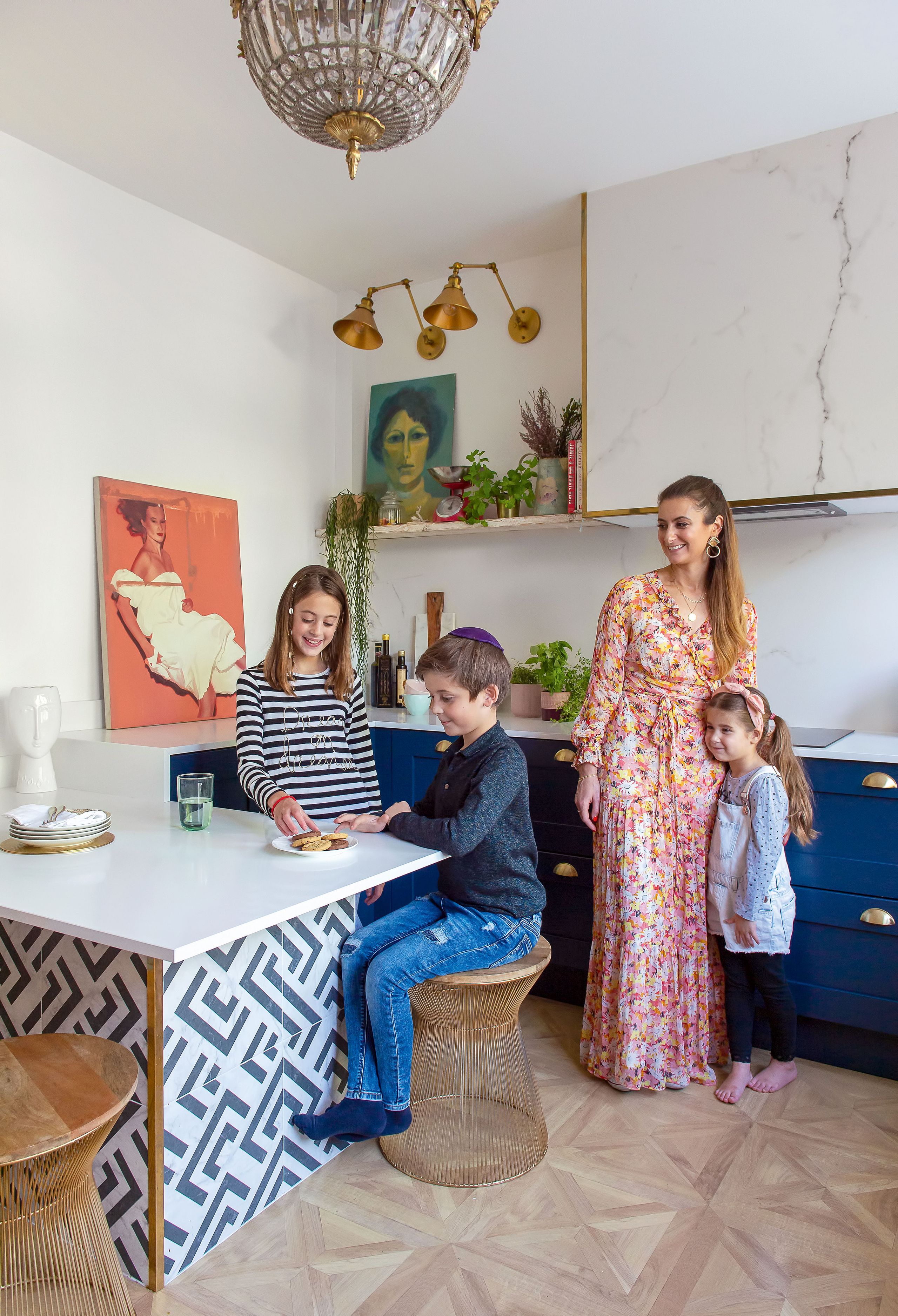 If yours is a boho style kitchen with lots of lovely detailing, it pays to keep your backsplash tiles as plain as possible – and that means as few grout lines as possible, too, so that everything has space to breathe (visually), and nothing has to fight for attention, with the result that the kitchen feels calm and uncluttered. 
Here, supersized tiles cover the backsplash and cooker hood. The only caveat is that your walls (or floors) have to be as flat and even as a pancake to take tiles this size… 
See the rest of this stylishly renovated home full of surprises.
5. Make the room feel taller with this kitchen tile idea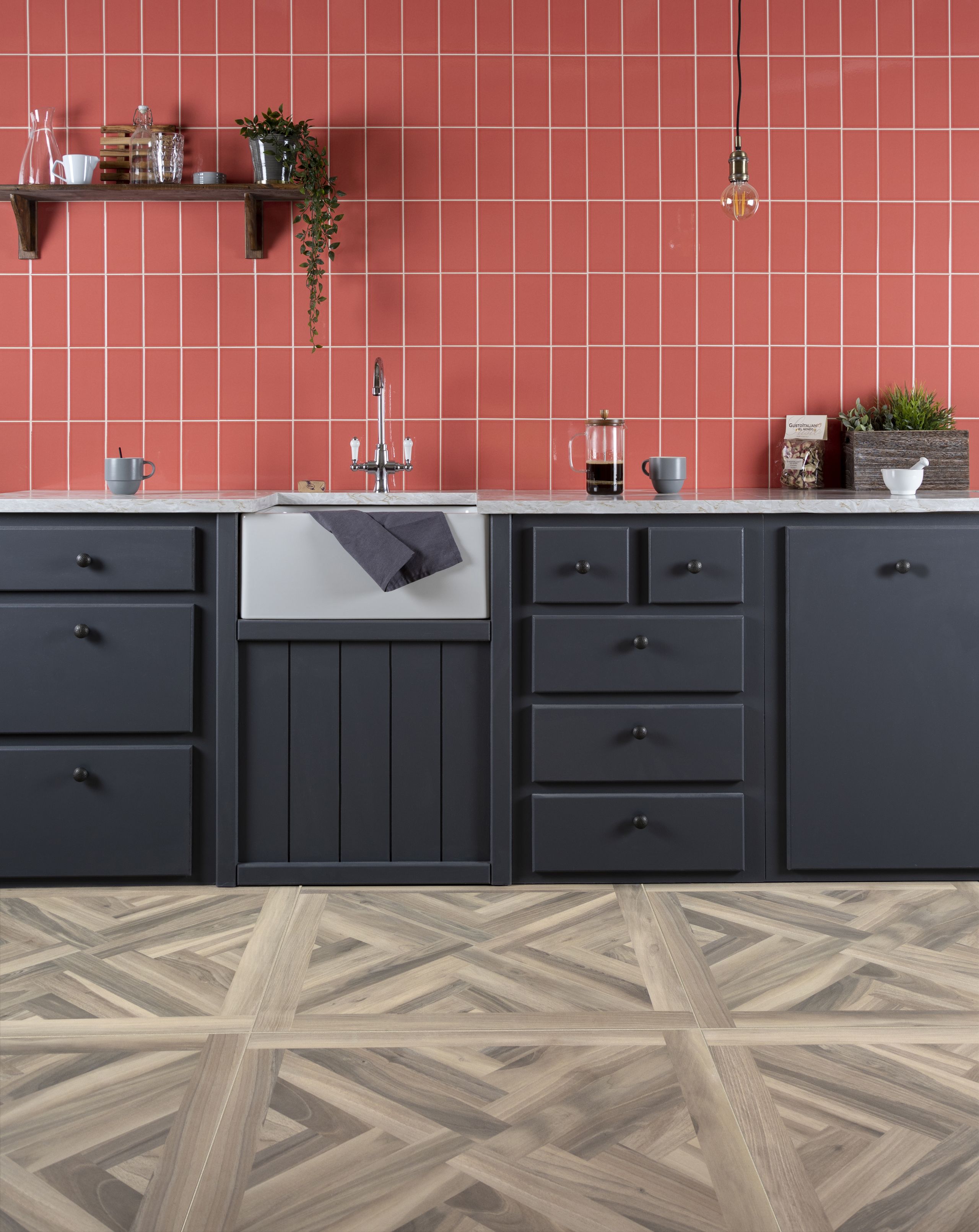 Taking your backsplash higher than usual is a great way to add a wall that oozes color and texture. 
It works particularly well if you have a low ceiling and you want to create the illusion that it's higher – the linear quality and the way the tile is fixed vertically rather than horizontally will draw the eye up.
Plus, in a boxy, modern space with little character, it'll do the job of injecting personality for you.
Into color? Be brave. These tiles are similar to Pantone's Living Coral color from 2019. They will warm up a north-facing kitchen and create a colorful hub for the family to relax in. Tiles by Walls and Floors.
Our small kitchen tile ideas will help you pick the best option to make your space feel bigger, brighter and well… better.
6. Flat-fronted units and sleek appliances? Pick a small tile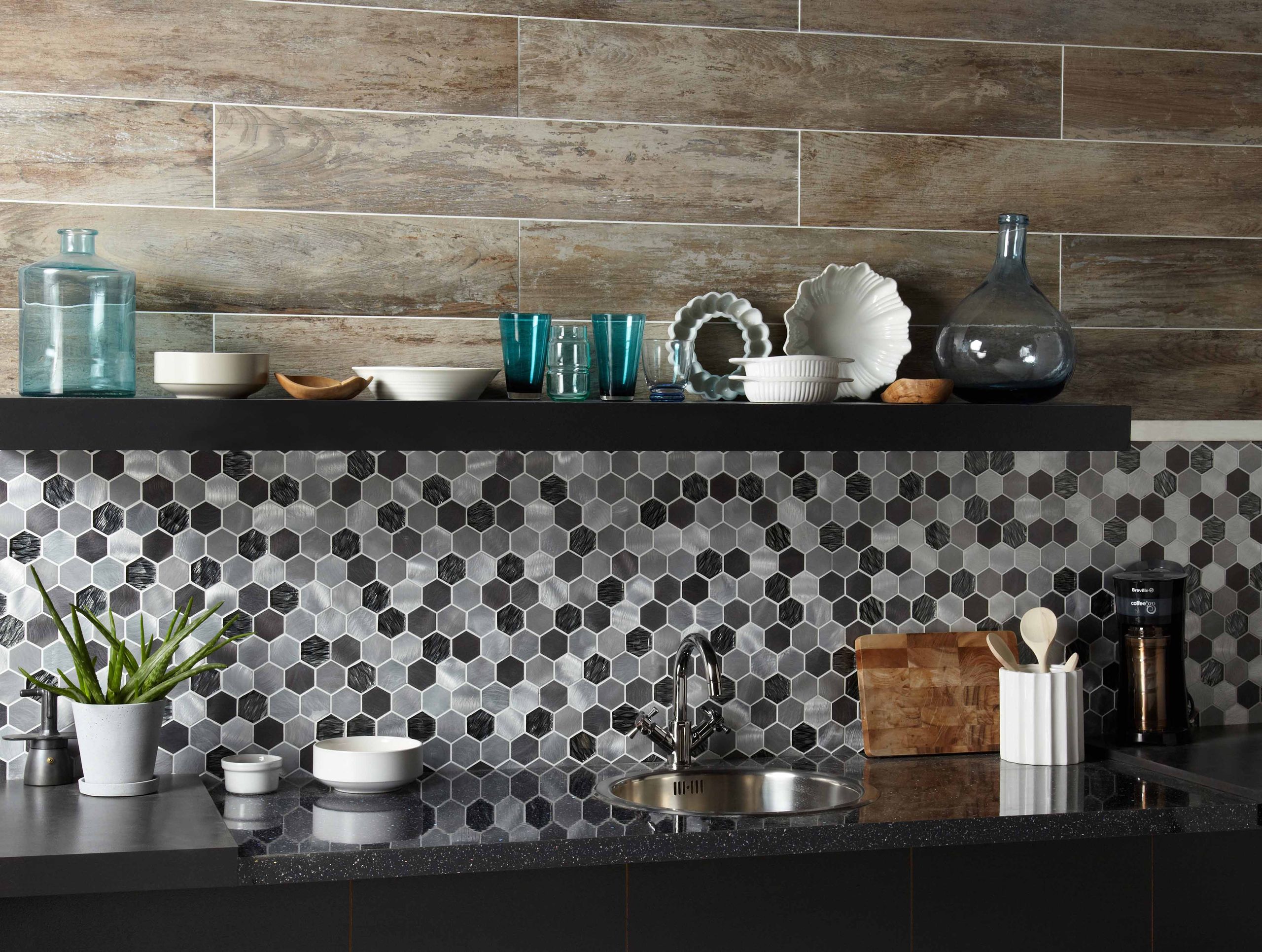 If your kitchen is all about simplicity and minimalism, pick a small tile to add pleasing detailing. 
For a modern feel opt for this contemporary mosaic from CTD Tiles, they work fabulously well with black and white, and they feature distressed metal pieces in three tonal grey hues. So if you love metallic accessories these tiles are your perfect match! 
7. Choose accessories to match your tiles for a co-ordinated look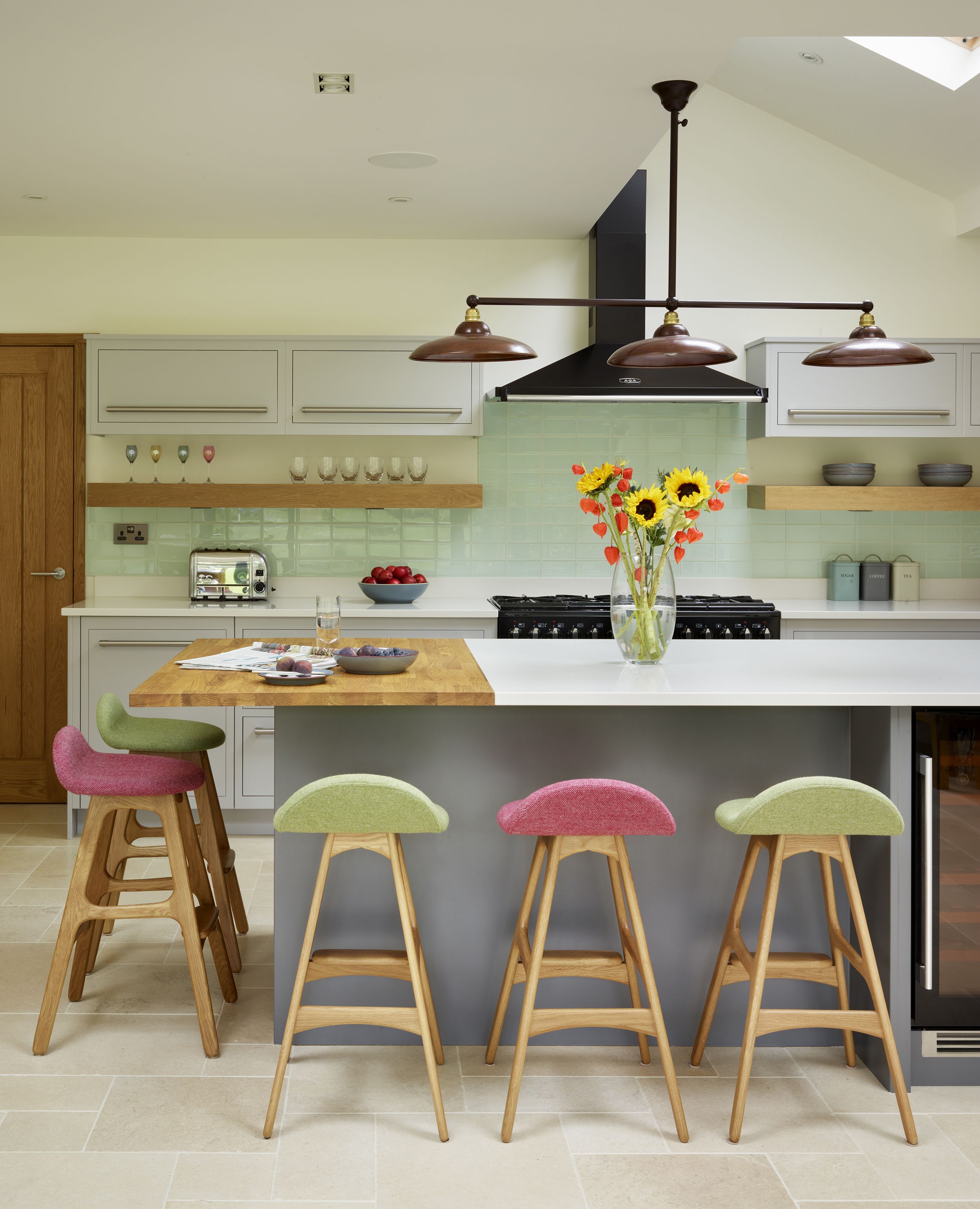 These pretty pale green tiles give a fresh feel to this kitchen from the Harvey Jones Linear range, whilst adding in a color that sits perfectly with the warm wood accents in the rest of the space. 
We love how the kitchen stools are a similar tone, it brings the green out into the room and who doesn't love a splash of color? You can have fun shopping online for glasses, bowls and storage tins in a similar shade to create a cohesive feel. 
8. Go bespoke with mix and match tiling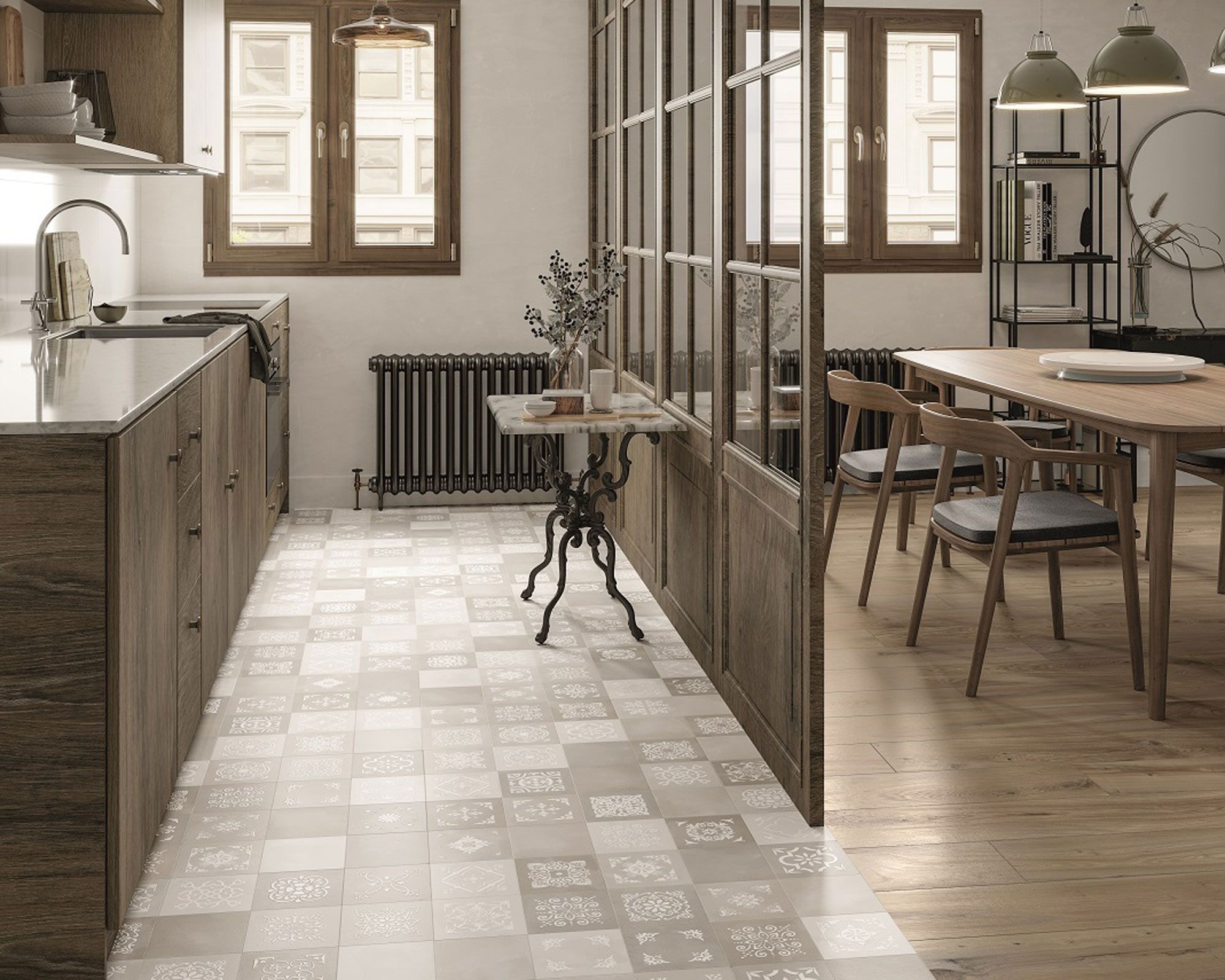 Mix and match tiles to create your very own statement in your kitchen. Variety is the spice of life after all and what better way to express your individuality then with a collage of tiles in different styles? 
Youssef explains, "Bespoke finishes are always in demand, but often out of reach when it comes to cost. One of the biggest news in tiling in recent years has been the rise of the 'mixed' collection – a tile range comprising of up to 70 individual tile designs and sold in boxes made up of 20 random tiles. It's very unlikely any two orders will be the same, so homeowners can be sure their finished layout will be completely unique to their home."
9. Pair dark subway tiling with neutral decor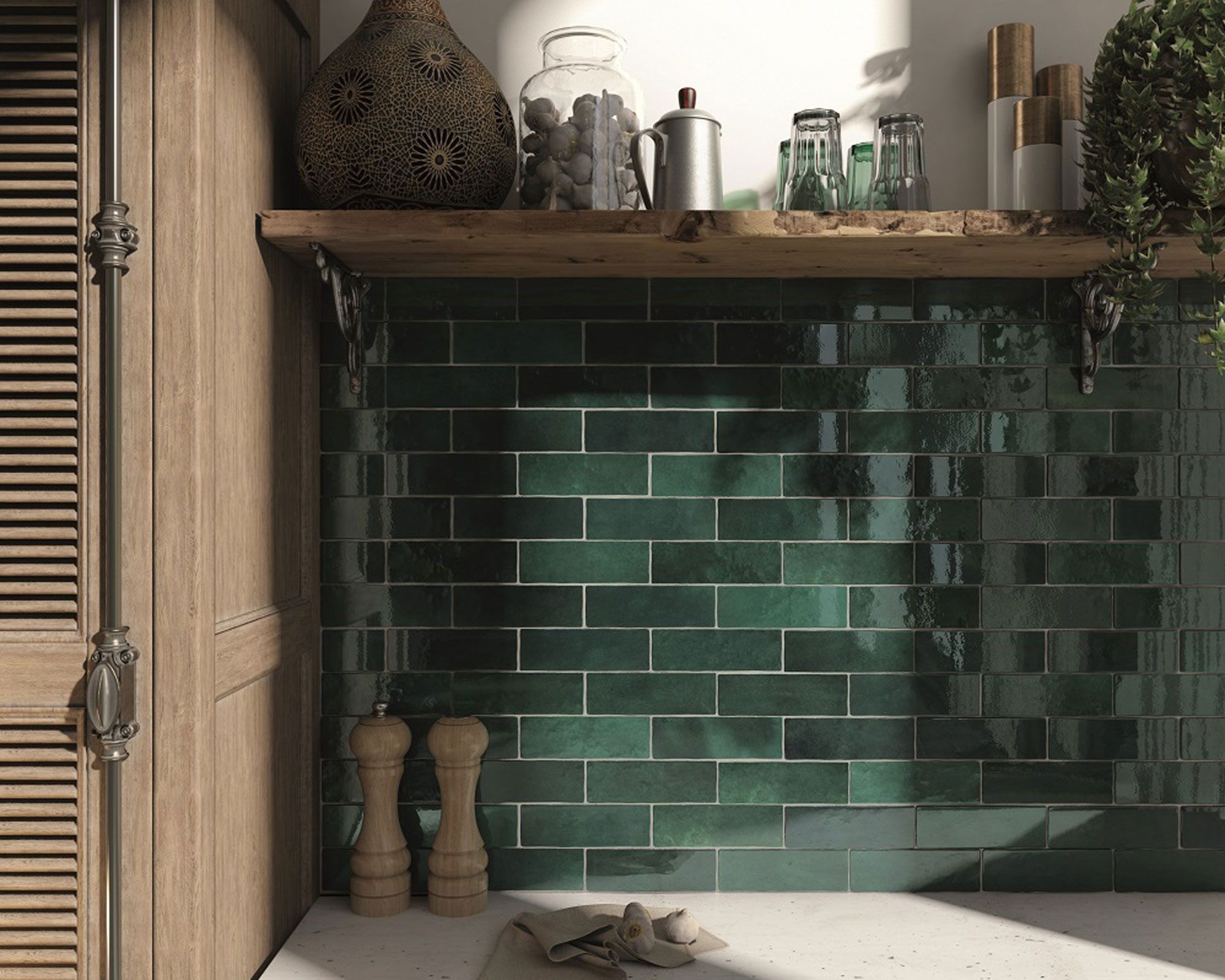 Try a darker subway tile which will contrast beautifully with more neutral décor and wood kitchen units.  
"Muted shades are giving way to richer, deeper tones – particularly emerald greens and dark blues – as homeowners strive to show off their personalities," explains Youssefi.
Grouting tiles yourself in a shower or kitchen is easily done. Here's how to grout tiles for clean looking, professional results.
10. Play with color with a patterned tile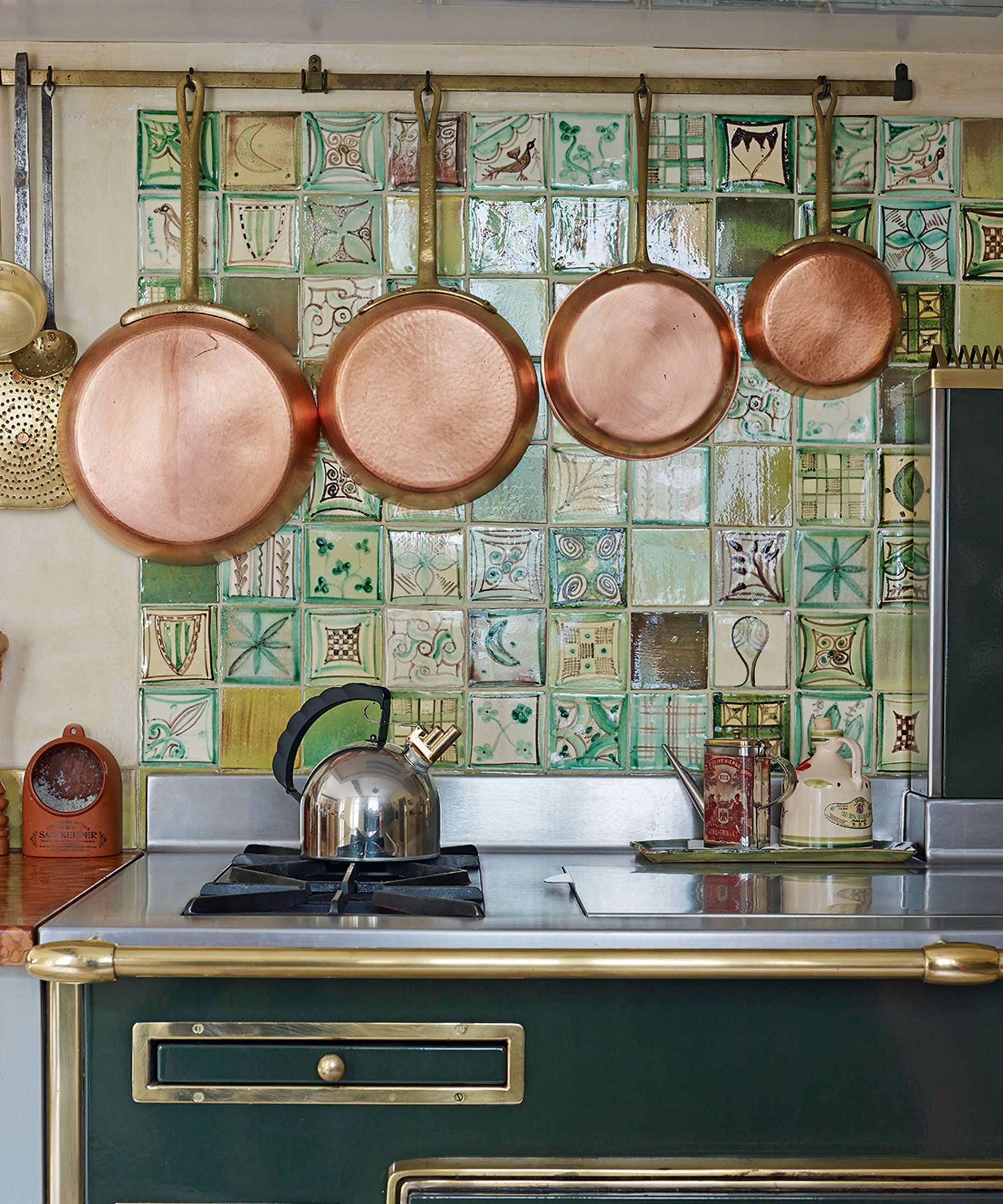 Another way to inject some vibrancy is to go for a patterned tile which adds some playfulness. 
The patterned green backsplash here echoes the color of the cooker and makes a great focal point within the kitchen. 
On the hunt for the perfect kitchen color? Check out our kitchen color ideas to help inspiration strike.
11. Blend your worktop with your backsplash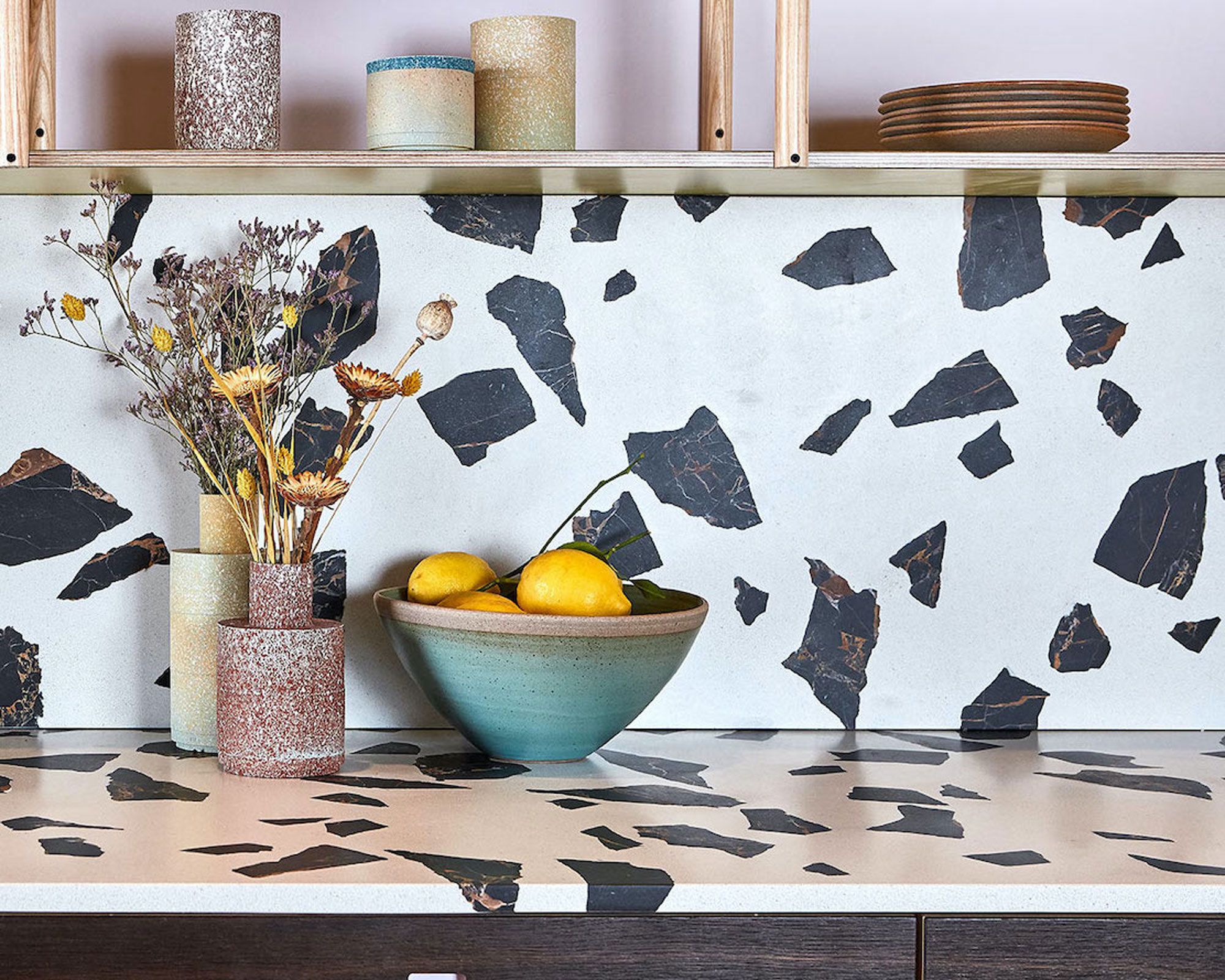 You can also carry through a pattern from your worktop to your backsplash like in this terrazzo style one here. 
This large format terrazzo creates a striking but also seamless look that packs a punch. 
12. Create a natural flow with floor to wall tiles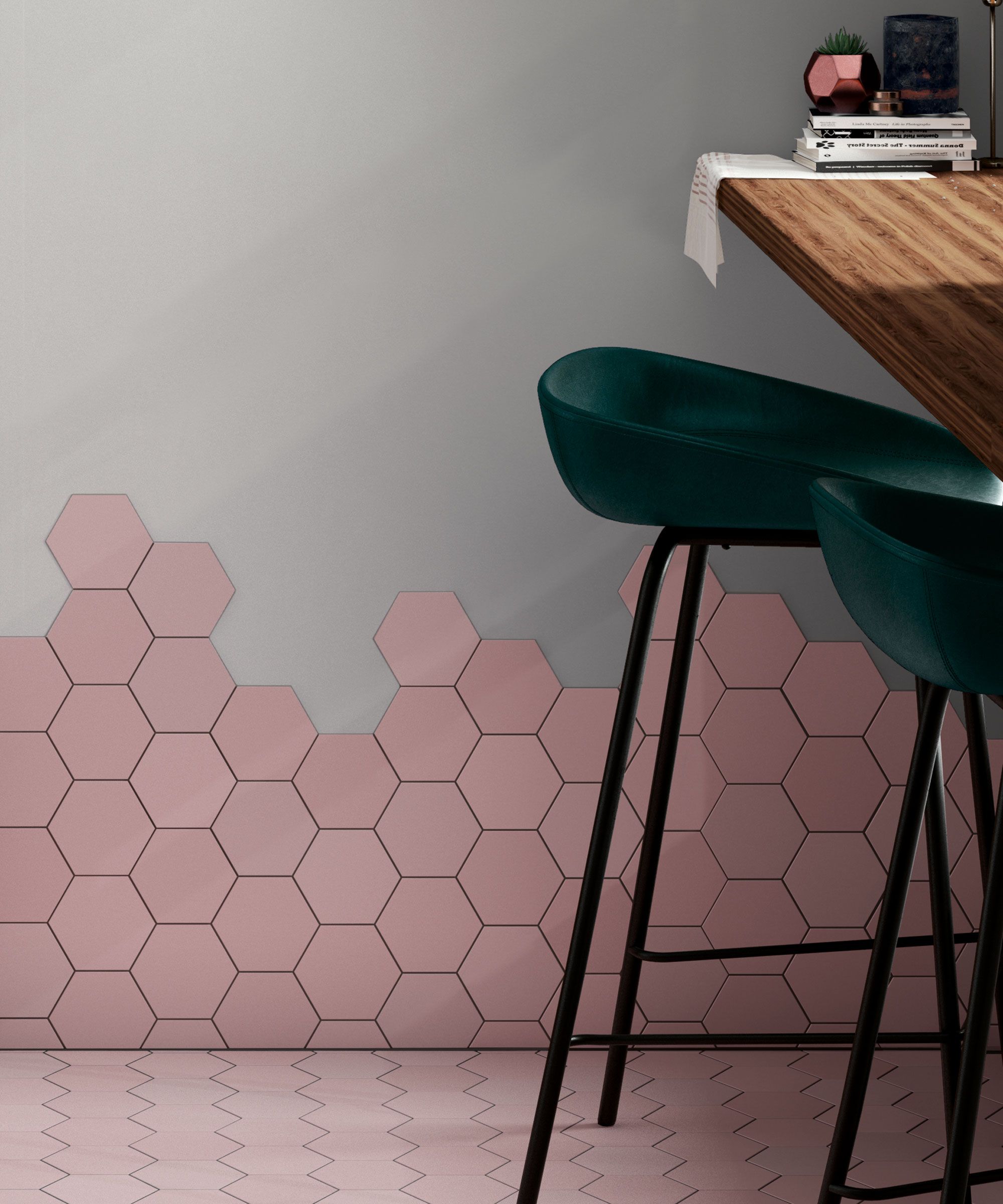 Follow suit by creating a flow from floor to walls with large format tiles in a vivid shade. 
Not only will this make a statement but will protect your walls from wear and tear. Our other kitchen flooring ideas are sure to (ahem) floor you…
13. Create a feature wall with small terrazzo tiles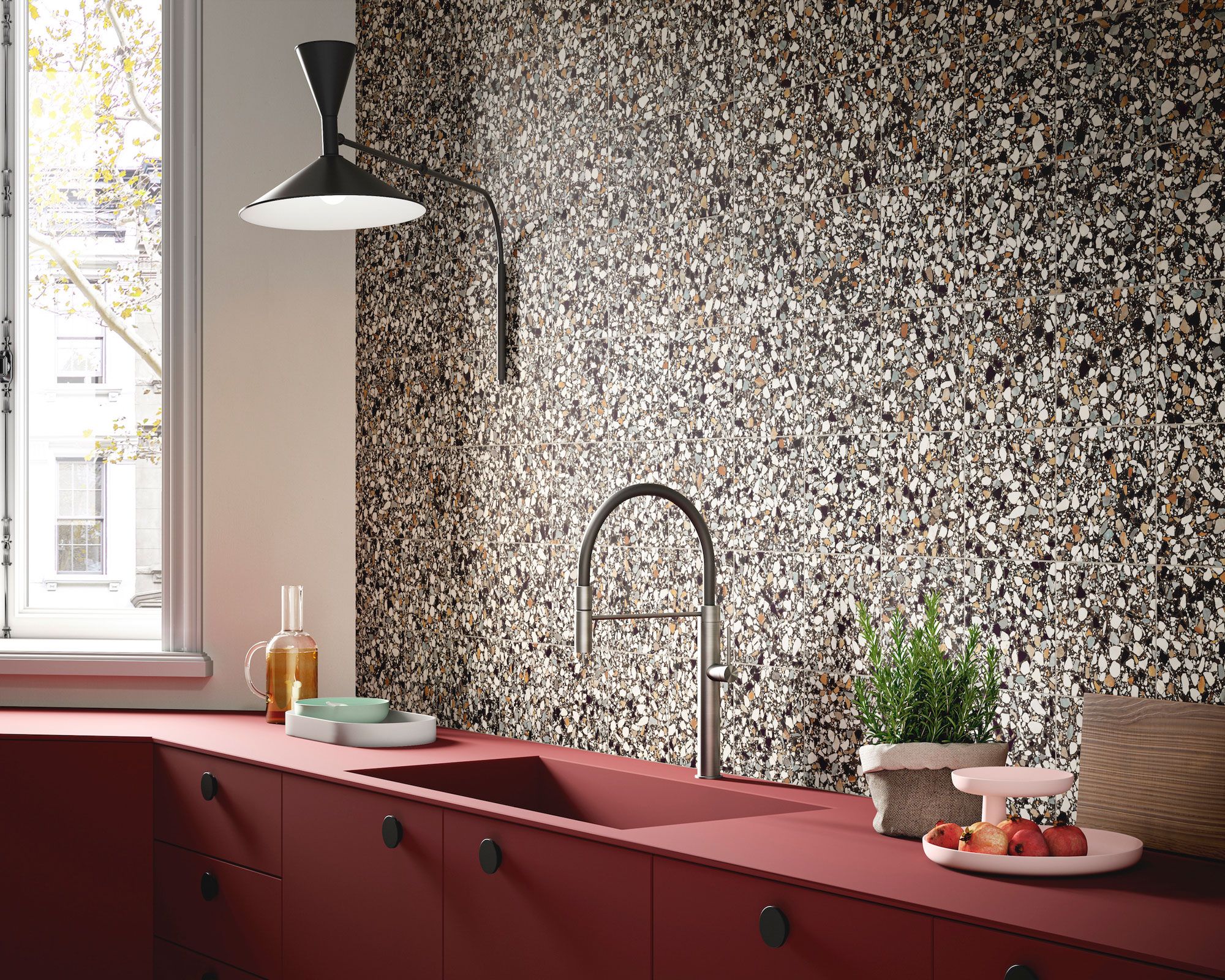 Make a statement in a vibrant kitchen with small worktop to ceiling terrazzo tiles. 
Not only does this space look bigger, but the tiles create a feature wall that adds interest and draws in the eye.
How to choose kitchen tiles 
Choosing kitchen tiles is really important whether you're taking the plunge with a new kitchen design or updating an existing kitchen. 
Whether you're looking for a new backsplash or kitchen flooring, find out more by visiting our guide to how to choose the best kitchen tiles.